SCRATCH TUTORIAL SPACE SHUTTLE MISSION STS-2020
Lesson 14 Create a Missile Sprite

Description. This lesson, we will use the Paint Editor to create a Missile spite.

If you haven't already, Launch the Scratch program from your desktop.
Let's get started!!!
We will be using background 5, spacebg. Click on the Stage icon, Select the spacebg.
Click on the
Paint Brush
to draw a Sprite.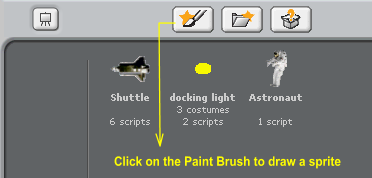 Draw a missile. This is mine. I am not a very good artist, so I just made a circle and put stuff on it to look fins. I am sure yours will look a lot better.
When you are done click
OK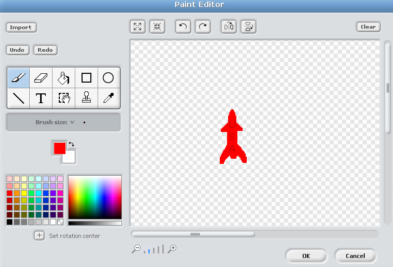 In the Sprite info area, rename it to
Missile1
.


Us the
Grow
and
Shrink
buttons to resize the Missile sprite.